Contact Us:
25043 Lorain Road
North Olmsted, Ohio 44070
Phone: (440) 777-5358
Billing: (440) 918-8889
Email: ly2drmusser@gmail.com
Fax: (440) 777-5922
*Please call us at
(440) 777-5358 for matters needing attention within
24 hours.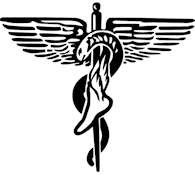 Office Hours:
​
Monday: 10:00am-7:00pm
Tuesday (first Tuesday of month only): 9-2
Wednesday: 7:30am-4:30pm
Thursday: 9:00am-4:30pm
Friday: 8:30am-4:30pm
​
Every 3rd Saturday: 8:30am-1:00pm
Stephen Musser, D.P.M.
Family Podiatric Care
Serving North Olmsted and the greater Cleveland area for over 30 years.
Welcome! Whether you are new to our practice or are a current patient, please refer to the following information:
​
General Policies:​
​
To schedule an appointment, please call us at (440) 777-5358. We do not schedule online, via email, or via MyChart due to the diverse needs of our patients.

New patients: Please complete the Patient Registration Form and bring it with you to your appointment.
Insurances:
Our office accepts a variety of HMO/PPO insurances. We accept Medicare assignment, Medicaid products, Aetna, Anthem (Blue Cross/Blue Shield), Caresource, Cigna, Humana, SummaCare, Medical Mutual of Ohio, Buckeye, Molina, Paramount, Wellcare, and United Healthcare, to name a few. We suggest you refer to your insurance booklet or call your insurance to see if you are in-network and will be covered for your appointment with us. You are financially responsible for all charges whether or not paid by insurance.
Payments:
Copays are due at the time of the office visit. We accept cash, checks, and Visa/Mastercard/Discover credit cards.
Checklist of items to bring to your appointment:
​
Insurance card (please make sure it is the most current card).

Drivers license or photo ID.

A completed Patient Registration form.

Referral from primary care physician (if necessary).

X-rays, MRI's, CT scans, bone scans, etc. previously taken that pertains to the reason we are seeing you, and/or the reports from these tests.

Any other information regarding your injury that would assist the physician.

A list of the medications you are taking along with the strength and dose.

General past medical history (e.g.: Illnesses, surgeries).
*If the patient is a minor (a person under the age of 18) they must be accompanied by a legal guardian.
Please reference the following document to read and save a copy of our privacy policy.
​
​
Please call our office at (440) 777-5358 if you have any questions regarding our policy.